PassivHaus
Our Passivhaus kit build system saves upto 90% on heating bills
The concept of Passivhaus design is to dramatically reduce the requirement for space heating and cooling, through extensive insulation, airtightness, solar gain and energy efficient design. The Passivhaus principle also improves the comfort and climate of the internal living space. Currently, this fabric first approach is gaining support in the UK as the most effective means for delivering low and zero carbon housing.
Passivhaus design principles
Passive house design emphasises conservation of energy and high quality detailing, to eliminate unnecessary heat losses through poor draught proofing and thermal bridges. Key to this is passive architectural design of buildings that optimise solar gain and minimise overheating, alongside whole house mechanical ventilation with heat recovery (MVHR) and exceptional levels of airtightness. The basic principles of the fabric first Passivhaus design can be seen from the diagram below.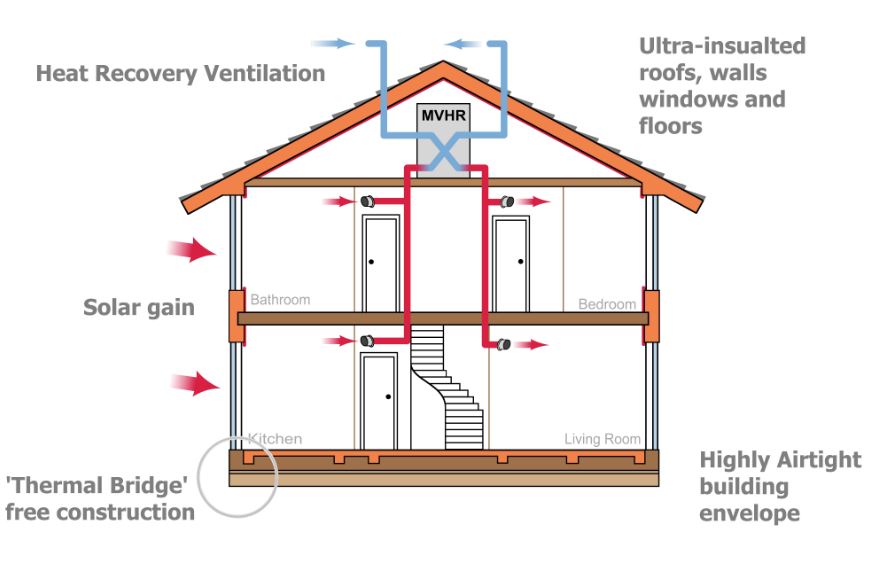 Annual Heat Demand 15kWh/m2
Peak Heating Load 10W/m2 – Equivalent to One Candle!
Primary Energy Demand 120kWh/m2
We provide a complete Passivhaus design and build solution.

Our unique Passivhaus twin-wall kit home build system delivers some of the lowest u-values on the UK market. Our Passivhaus certified passive design consultants combine with our in house sustainable architects to optimise your scheme to meet the Passivhaus standard and will work with our clients to provide sustainability consultancy on the best energy strategy and low carbon options for your the scheme
Passivhaus Kit Home specification
Walls <0.12 W/m2K
Passive Slab <0.10W/m2K
Roofs <0.10W/m2K
Windows & Doors <0.8 W/m2K
Minimal thermal bridges
Guaranteed Airtightness <1m3/m2/hr @ 50 Pa at first fix – 10x current building regulations. This conserves energy and reduces the risk of indoor climate discomfort through draughts. MVHR mitigates possible moisture build up within the building.
PassivHaus windows and doors – all of our windows and doors are triple glazed, UPVC, timber or aluminium framed, and achieve < 0.8 W/m2K
Mechanical Ventilation & Heat Recovery (MVHR) – our new build kit homes feature whole house MVHR with a heat recovery of greater than 90%, this provides a dramatic improvement in air quality whilst conserving warmth, by pre-heating fresh incoming air.
PHPP Design Guidance –We can model your project using Passivhaus Planning Package (PHPP) software, and provide design guidance on how it could meet the PassivHaus standard
Other design principles we adhere to are; utilising passive solar gains, compact build form, summer shading, we are also keen to explore novel solutions such as passive cooling, solar heating, thermal stores, depending on the needs of your scheme.
We can offer a fixed price for:
Initial PHPP modelling of the scheme
Detailed architectural work -Planning, detailing and Building regulations
Passive Slab foundations
Superstructure – Timber frame walls, Roof and internal floors and partitions
Warmcel recycled newspaper insulation
Triple Glazed Pasivhaus certified windows
Pasivhaus Airtightness guarantee and free Air test
Cladding or render finish